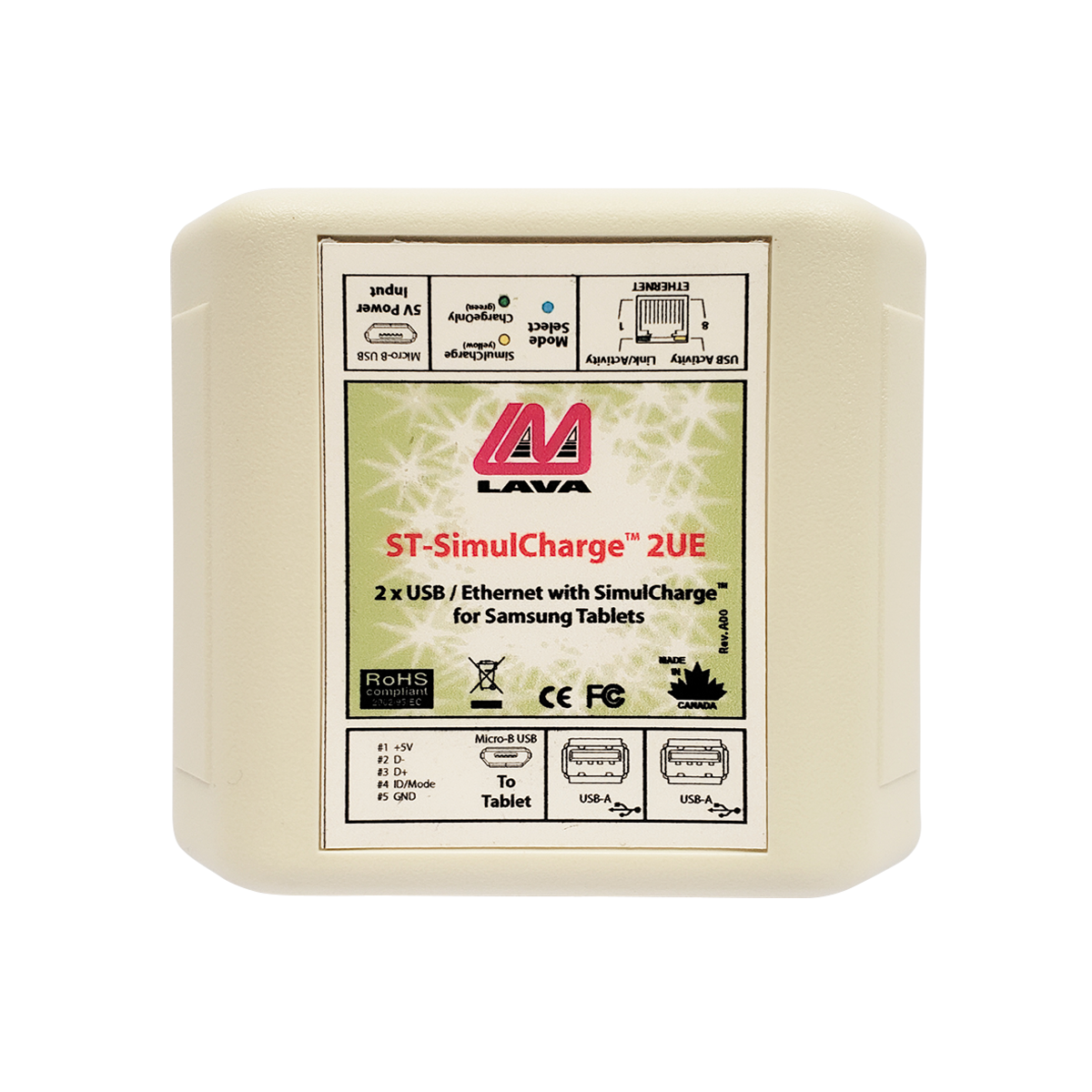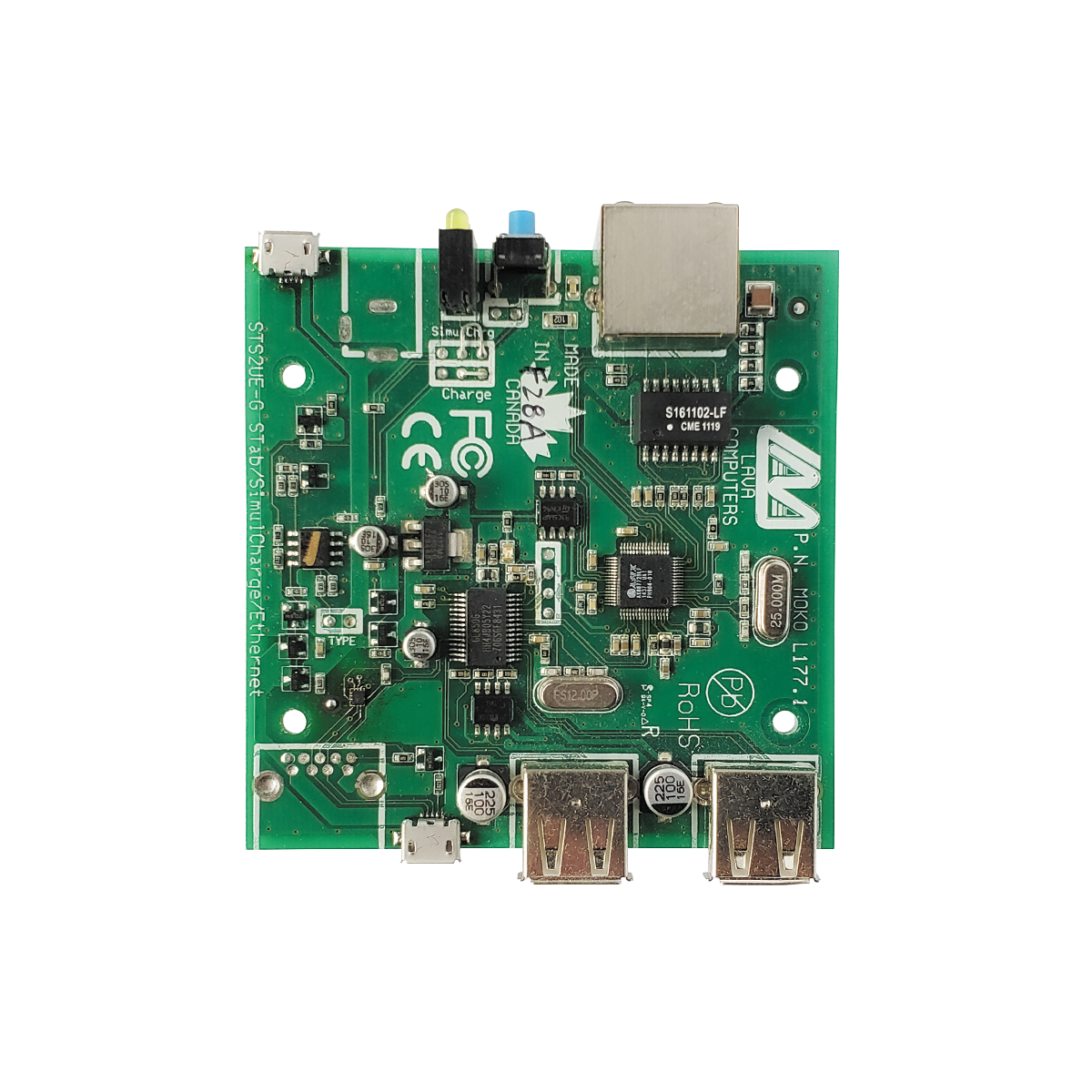 STS-2UE
Legacy SimulCharge Ethernet Adapter with 2 USB-A Ports for Peripherals
Legacy Product - Discontinued
The STS-2UE is a SimulCharge adapter for compatible Samsung mobile devices. It has one LAN and two USB-A ports. LAVA SimulCharge technology allows the tablet to operate as a USB Host while continuously charging the battery.
Note: The STS-2UE is a discontinued LAVA product. If you are looking for an adapter with similar functionality, please check out the nSTS-2UE, which also includes Docking Detect technology.
PRODUCT DESCRIPTION
The STS-2UE provides a reliable wired network through its 10/100-capable Ethernet port and its two USB-A ports can be used to peripherals, such as a printer and scanner.
The STS-2UE can be switched into Charge-Only mode to rapidly replenish the battery in the same manner as USB Charger with a Direct Charge Port (DCP) as defined by the USB Battery Charging specification v1.2.
The STS-2UE can be used on its own, or as part of a third-party enclosure solution, supporting a variety of kiosk-type applications.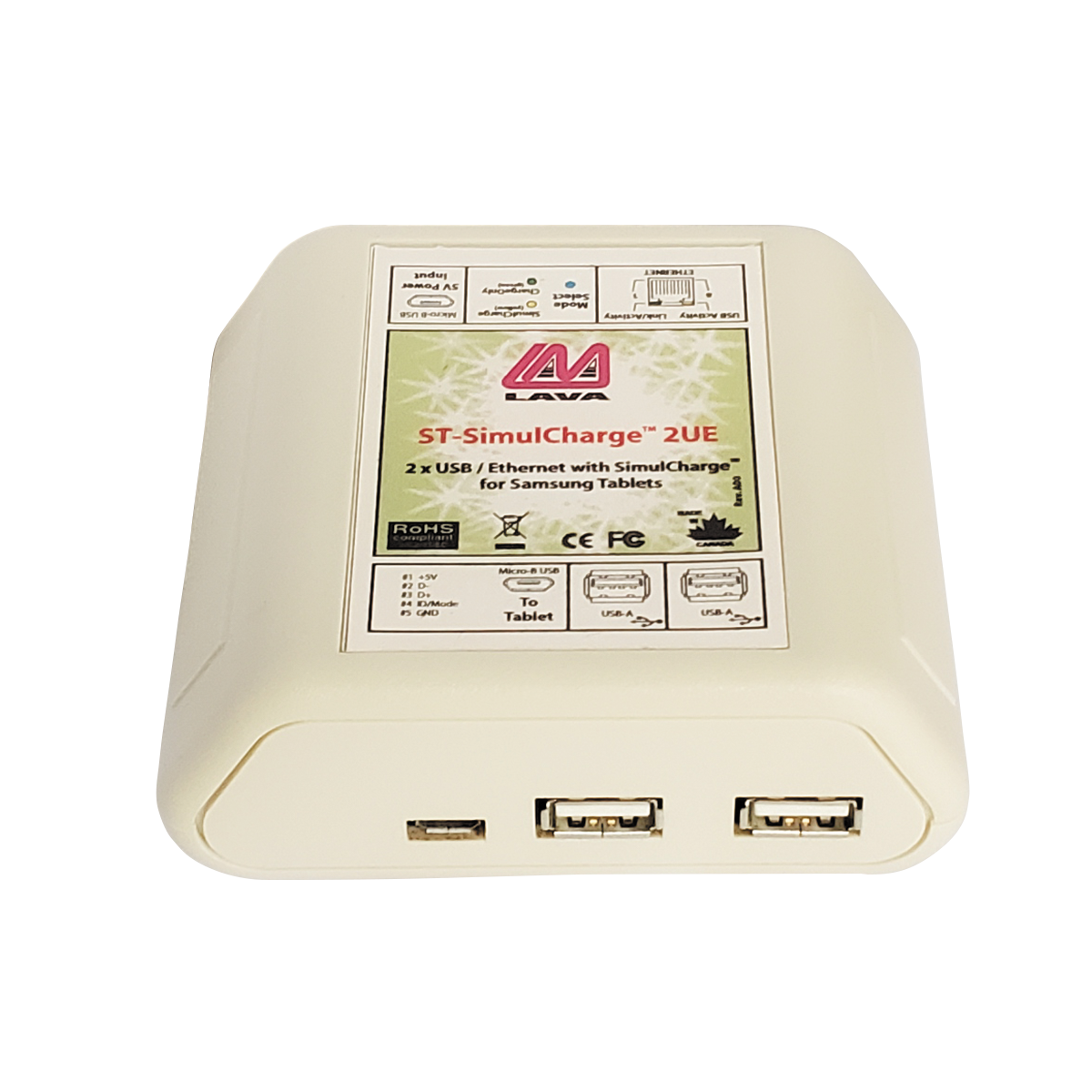 System Requirements
TABLET
Select Micro-USB Samsung Mobile Devices
POWER
USB Charger/Power Supply with a Micro USB-B connector, such as the power supply provided with the Galaxy tablet. Any regulated 5 volt power supply capable of at least 2 amperes can be used.
The power supply must not exceed 5.25 volts.
---
Specifications
CABLES
1 x Micro USB-B to Micro USB-B cable (3.3ft/1m)
Note: The custom 3.3ft/1m cable connects the device to the tablet. This cable may not be extended.
PORTS/CONNECTORS
1 x RJ45 10/100 Ethernet port
2 x USB A port (for USB 2.0 accessories)
1 x Micro USB B port (Tablet connection)
1 x Micro USB B port (Power input)
1 x Push Button (Charge mode switch)
1 x Charge Only indicator LED
1 x SimulCharge indicator LED
1 x Ethernet Link indicator LED
1 x Tablet USB indicator LED

OEM CONNECTORS
1 x 2-pin header
(to optional Charge Mode switch)
1 x 2-pin header
(Type jumper)
1 x 3-pin header
(Charge Only indicator LED)
1 x 3-pin header
(SimulCharge indicator LED)
Note: The OEM Connectors are not available on the standard product.
DIMENSIONS
Depth: 3.3 inches (83 mm)
Width: 3.8 inches (97 mm)
Height: 1.7 inches (44 mm) – with standoffs
Weight: 7.0 oz (shipping)
Weight: 4.2 oz (device only)

---
Features
Designed for select Samsung Tablets USB Host operation while charging
10/100 Ethernet
2 USB 2.0 (Type-A) ports
Power over Ethernet (Class 0)
Up to 100 m (328 ft) from power source
PoE provide 5.2 volts internal
Can use original charger for initial testing
3.3 foot (1 meter) tablet connection cable

Convenient charge mode switch
Charge mode status indicator lights
Network and USB activity lights
Enhanced charging stability
No tablet rooting required

---
---
Applications
This adapter allows continuous use of Android-supported USB peripherals such as: Flash drives Magstripe readers 2D Scanner Printers Camera Keyboard/mouse Biometric readers Ethernet adapter (needs tablet firmware support) USB-hubs Other USB host mode devices
RELEVANT ARTICLES & INSIGHTS
---
---
---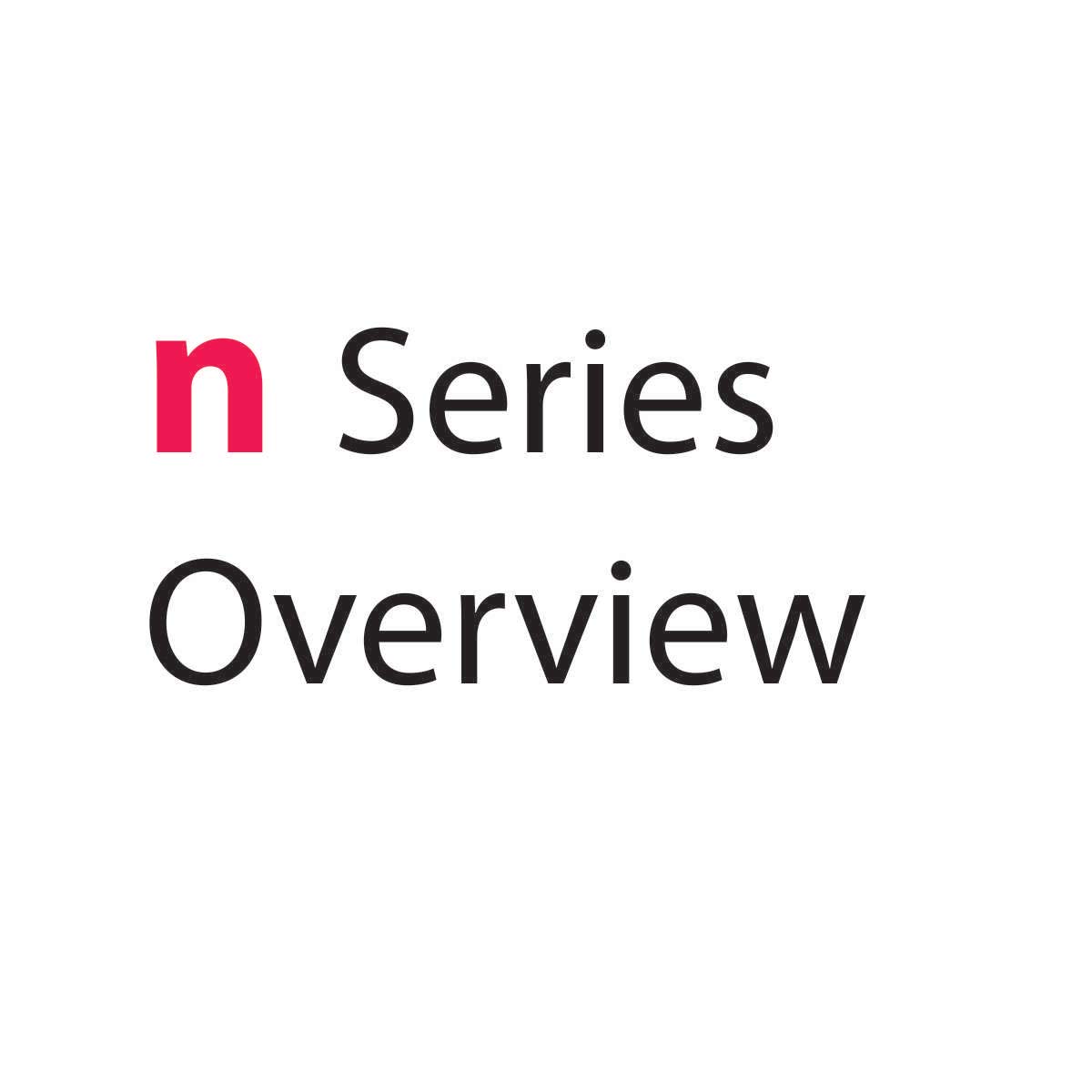 ---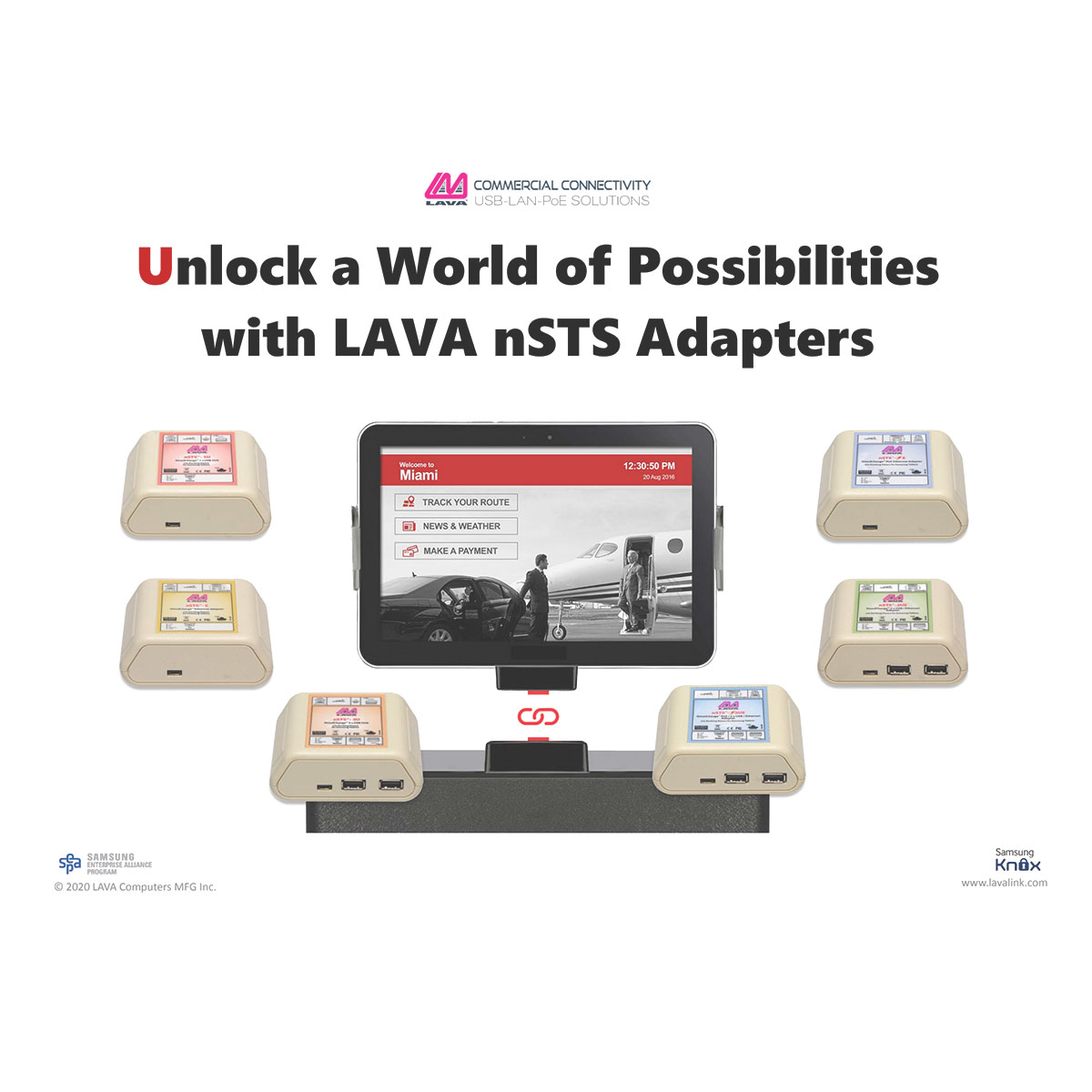 ---
DOCKING DETECT
NEXT-GEN ADAPTERS
---
---
BATTERY MODULATION
NEXT-GEN ADAPTERS
---
---